In less than three weeks on the street, I'm humbled and pleased to announce that Almost Mortal is already making tracks; today I broke into the coveted Amazon Top 100 for legal thrillers. Thanks for your support and with your ongoing kind reviews maybe next I'll be announcing the top 10!
Indie Next Gen Award
At the recent Book Expo America, the book was awarded the Indie Next Gen award.
Sadly, I wasn't there to receive it, but instead sent my publisher, John Koehler of Koehler Books (read his cool coverage article here) and my publicist, Shari Stauch of Where Writers Win (read their cool coverage here!).
Upcoming Book Events
Also excited to share that I'll be doing several book events in June and July, beginning with a signing at the Seven Corners Barnes & Noble in Falls Church, VA on June 18 from 2-4 p.m. Then it's on to William & Mary Bookstore at William & Mary College in Williamsburg on July 3 (12-3 p.m.); Chesterfield Barnes & Noble July 9 (2-4 p.m.) and Bethany Beach Books on July 20 in Delaware (6:30 – 8:30 p.m.).
Stay tuned for more news on these and other signings both here on the website and at my Facebook page.
In the News
Meanwhile, thanks to Northern Virginia magazine for their kind posting about Almost Mortal. You can read that HERE.
Featured Title, Too!
Also exciting (well for me it is), Almost Mortal is now listed as a featured title on the Koehler Books website.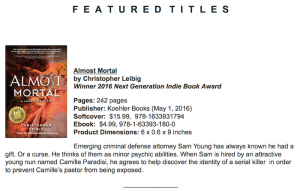 Again, my sincerest thanks to all you readers and fans – Keep in touch and appreciate you sharing this with your reading friends, too!
Haven't read Almost Mortal yet? Please order it HERE!