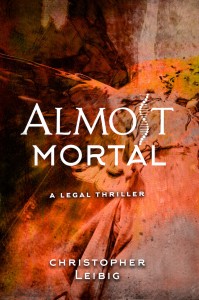 As I prepare for the launch of Almost Mortal this May, life has been a flurry of interviews and reviews; speaking with publishers and printers and designers and videographers.
It's an exciting time for any author and very enjoyable when we get to see some fruits of our labor, especially while we're still anxiously awaiting the book's release!
So here are a few early articles and interviews I'd like to share, and I'll keep you posted on more as they become available, either here or on our Press page.
Thanks for stopping by!
Chris
A fun Q&A with the folks at Small Friendly planet, where I answer questions about the book, the publishing process, and on being a defense attorney.
Happy with the review from Kirkus, who sums up the review (link above) with this: "A poised protagonist leads this serpentine but engaging legal tale."
Fun interview here and a spoiler alert when asked about what readers can expect in the future: "Hopefully a sequel to Almost Mortal. Also have another novel, finished years ago, that I will try to launch if Almost Mortal does well…"
Kind words at this review that include: "Leibig has done a masterful job… you will sit down with Almost Mortal and not want to put it down. Leibig has a very nice and easy way with his writing that will keep you captivated."
If you're a recognized reviewer and would like to arrange for a digital ARC of Almost Mortal, please provide your info with your comment below or email shari@writerswin.com to arrange a copy.