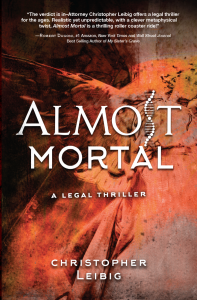 Less than sixty days from the release of Almost Mortal and now knee-deep in final edits from my publisher, Koehler Books.
Many thanks to authors, reviewers and others who have taken the time to read Almost Mortal and to share your thoughts. – Chris
"The verdict is in – Attorney Christopher Leibig offers a legal thriller for the ages. Realistic yet unpredictable, with a clever metaphysical twist, Almost Mortal is a thrilling roller coaster ride!" – Robert Dugoni, #1 Amazon, New York Times and Wall Street Journal Best Selling Author of My Sister's Grave
"A poised protagonist leads this serpentine but engaging legal tale." – Kirkus Reviews
"A mystery reminiscent of the magical realism of a Gabriel García Márquez tale. A page-turner that you'll probably want to read twice." – Patricia MCcardle, author of Amazon's Breakthrough Novel award winner, Farishta
"…You will sit down with Almost Mortal and not want to put it down." – AuthorsReading.com
"Leibig invites readers into the creative, chaotic, and often caustic environment of criminal defense work while presenting both its intensely real, human side and engaging our fantastical, supernatural curiosities about good and evil." – Sarah Burke, capital mitigation investigator and managing partner of Virginia-based investigative firm, Burke and Associates.
"Everyone who investigates and litigates serious criminal cases has had that one case they'll never forget, the one that haunted them, seduced them, or just turned in a completely unexpected direction. This book is about that case." – Phil Becnel, Private Investigator and author of Principles of Investigative Documentation, When Your Lover is a Liar
"Chris Leibig's quick moving legal thriller mixes accurate insights into the world of criminal defense attorneys with the unusual and unexpected twists of the novel's surrounding events. It's hard to put down and leaves you with much to think about." – John Kenneth Zwerling, Nationally known Washington, D.C. Criminal Defense Attorney
"After narrating five of his books, Chris Leibig has become one of my favorite authors. They're smart, entertaining, engrossing and addictive. His latest, ALMOST MORTAL, is the jewel in his crown and lives up to all these adjectives. Needless to say, I recommend it highly."– Steve Carlson, Audible audiobook narrator, actor and author of Heaven, Almost Graceland, Final Exposure. 
"Chris Leibig takes readers on a surreal and sublime journey to catch a serial killer through the eyes of wickedly clever and cunning hero." – Anne Marie DiNardo, 2011 Rod Serling Screenwriting Competition Finalist.
Plus, early input from reader reviewers includes:
"I like trying out new authors and thought the premise of "Almost Mortal" by Christopher Leibig sounded interesting, and I liked that it was written by an actual lawyer (like John Grisham was). But while I fully admit I didn't have the highest expectations going in…well, consider me blown away! I read "Almost Mortal" almost in one sitting (much to my own amazement) Christopher Leibig is a natural writer, and I was hooked in by the way he weaved so many interesting characters and twisted storylines together to create a wholly addicting story that I couldn't put down until the final conclusion. It was fast-paced and with snappy dialogue and free from many clichés that riddle this genre. I was impressed with not only the level of knowledge Mr. Leibig demonstrates from the legal POV, but also the creativity in infusing it with an almost paranormal/fantastical/spiritual element that makes it stand out from many others I've read. Was satisfied with the ending and would love to read more from Leibig in the future!" (5 stars) Gillian Hancock—Goodreads; Shelfari; Indie Book Reviewers
"Wow, what did I just read? Almost non-stop drama and a fast moving plot kept me on the edge of my seat from start to finish. The writing was excellent, with perfect formatting and flawless editing as far as I could tell, which is always a huge plus on my end… Really liked the mix of legal and religious storylines, and authentic, flawed characters infused with an original plot makes it feel that much more believable… Definitely think Leibig is an author to watch for, and recommend for fans of suspense and thrillers." (5 stars) Laura Clarke—Goodreads; Shelfari; Indie Book Reviewers
"Almost Mortal by Christopher Leibig grabbed me from the opening pages and didn't let go until the very end… It is rare to find a book that keeps my attention all the way through, but this one did… Nothing lights my fire more than shocks, deception and unpredictable twists…and Almost Mortal did not disappoint!… Recommend to fans of the legal thriller genre…heck, for anyone who just enjoys a great, intelligently-written, and exciting read!" (4-5 stars) Kaylee Stevens—Goodreads; Shelfari; Indie Book Reviewers
"…I enjoyed the author's voice, and was surprised with the ending (but thought was very well done). I enjoyed the characters as well and though they were 'real', and the dialogue was some of the best I've read in a while. I would certainly like to read more from Christopher Leibig in the future." (4 stars) Corey Banyan—Goodreads; Shelfari; Indie Book Reviewers
"The whole time I was reading Almost Mortal by Christopher Leibig, I felt like I could have been watching it as a movie on the big screen. This novel was just as good as—if not better—many of the big-budget movies we've seen in this genre, and was reminiscent of James Patterson meets John Grisham…" (5 stars) Darla Ortiz—Goodreads; Shelfari; Indie Book Reviewers
"I'll admit that Almost Mortal wouldn't be my normal type of read (I'm more into nonfiction books) but I've been wanting to read more out of my comfort zone lately and expand my tastes… the premise and sample looked intriguing so I thought I'd give it a chance. I'd so glad I did! It was far more exciting than I would've guessed, and I found myself flipping the pages as fast as I could to see what would happen. I was totally wrapped up in the suspense and liked the characters and really felt like I was part of the whole experience from beginning to end…  I think that Christopher Leibig made a legal thriller-novel fan out of me!" (5 stars) Sam Ryan—Goodreads; Shelfari; Indie Book Reviewers